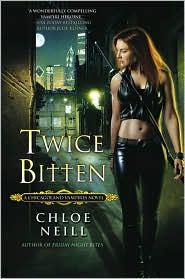 Book three in the Chicagoland Vampires series
About Twice Bitten
Shapeshifters from across the country are convening in the Windy City, and as a gesture of peace, Master Vampire Ethan Sullivan has offered their leader a very special bodyguard: Merit, Chicago's newest vampire. Merit is supposed to protect the Alpha, Gabriel Keene-and to spy for the vamps while she's at it. Oh, and luckily Ethan's offering some steamy, one-on-one combat training sessions to help her prepare for the mission.
Unfortunately, someone is gunning for Gabriel, and Merit soon finds herself in the line of fire. She'll need all the help she can get to track down the would-be assassin, but everywhere she turns, there are rising tensions between supernaturals-not least between her and a certain green-eyed, centuries-old master vampire.
Source: Goodreads
Review
The story keeps growing and the characters too!
A story that's beautiful written, this series has become one of my favourite series and I really love this next instalment in the Chicagoland Vampires series.
Chloe has done it again: More romance, more action and more great moments.
I think this book has everything that a fantastic book in the Urban Fantasy genre needs, it's mysterious and it's full of love, betrayal, regret and anger.
Merit and Ethan's relationship gets a lot stronger and we gets deeper into their feelings for each other and wow there's some great scenes and moments in there.
All the characters I love is still a part of this story, Lindsey, Luc, Mallory, Catcher and Jeff but we also get introduced to some new characters. The shifters have arrived and we get to know them and their ways a lot better in this book and we get to know more about why the vampires and the shifters are not getting along so well.
There was no way I could put this book down once I turned page one, the plot was great I felt like I could just keep on reading and I was a little disappointed when I turned the last page.
I absolutely love this series and if you have not started this series yet you definitely need to give it a try.
I give Twice Bitten 5 out of 5.
Other books in this series:
4# Hard Bitten
(May 3rd 2011)
5# Drink Deep (November 2011)