I'm so honored and happy to welcome Chloe Neill to the blog today.
I absolutely love her books and her Chicagoland Vampires series is one of my favourite series.
Book number four Hard Bitten releases on May 3, 2011.
I was born and raised in the South, but now make my home in the Midwest, just close enough to Cadogan House and St. Sophia's to keep an eye on things. When not transcribing Merit's and Lily's adventures, I bake (a lot!), watch entirely too much television, root for my favorite college football team (Go Big Red!), spend time with friends and my beau, Jeremy, and play with my dogs, Baxter and Scout.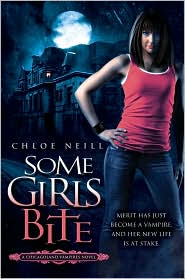 Where is your favourite spot to read?
I don't have much time to read, but I try to grab a few minutes before bed every night.
I can see that you like to bake. What is your favourite thing you bake?
I love baking cookies. Jeremy, my boyfriend, has a favorite recipe that I'm getting pretty good at cooking.
Where do you see yourself in 5 years from now?My professional goal is to hit one of the national bestseller lists in the U.S. I really hope that can happen in the next five years!
If you meet a vampire in real life, what would you do?Probably scream and run away. Or ask if he knows Ethan. :)
I also like the thought of vampires singing Blackbird a capella and if you should mention some of the vampires who would have to do the singing, who would you choose?I actually already have vampires singing it; it's a scene from one of the future CV novels, so I can't give anything else away!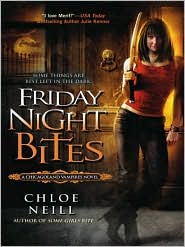 For people who have yet to read your series can you describe The Chicagoland Vampires in three sentences?
Sure! A graduate student becomes a vampire. She must learn to be brave and battle enemies of her House. And she has a lot of heat and tension with Ethan Sullivan, her Master vampire!
Mention three words about Hard Bitten that describes the content of the book?
Mayor. Raves. Drama!
If you had to choose one thing you like the most from the cover of Hard Bitten, what would it be?
I love how Merit is looking back over her shoulder. It's such a great look.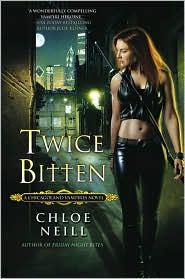 Up until now your books has been full of action, sarcasm and romance (I like that a lot by the way), what can we expect from the next books?
Thanks! Action, sarcasm and romance are the three parts of my writing style, so future books will include the same elements.
What is your favourite thing when you have a new book released?
I love reading reviews of people who were really moved by the books--whether they laugh, cry, or get angry over something a character has done.
Thanks for having me today!
Thank you so much for stopping by, it's great to be a part of your Hard Bitten tour, the book is amazing and I'm very excited to read Drink Deep when it come out on November 1, 2011.
Find Chloe Neill here:
Website
Blog
Forums
Facebook
Twitter
Goodreads