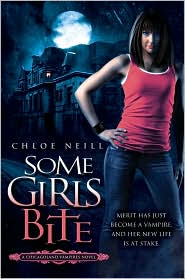 Book one in the Chicagoland Vampires series
About Some Girls Bite
Sure, the life of a graduate student wasn't exactly glamorous, but it was Merit's. She was doing fine until a rogue vampire attacked her. But he only got a sip before he was scared away by another bloodsucker and this one decided the best way to save her life was to make her the walking undead.

Turns out her savior was the master vampire of Cadogan House. Now she's traded sweating over her thesis for learning to fit in at a Hyde Park mansion full of vamps loyal to Ethan "Lord o' the Manor" Sullivan. Of course, as a tall, green-eyed, four-hundred- year-old vampire, he has centuries' worth of charm, but unfortunately he expects her gratitude and servitude. But an inconvenient sunlight allergy and Ethan's attitude are the least of her concerns. Someone's still out to get her. Her initiation into Chicago's nightlife may be the first skirmish in a war and there will be blood.
Source: Goodreads
Review
This is a great beginning to this series, the story of a girl who involuntary becomes a part of the vampire world and has to adjust to be a creature of the night.
Chloe Neill creates a fantastic universe and some very likeable characters.
I really like the way Chloe has written this book, it's very funny but it still deals with some serious trouble for the main character Merit but at the same time there's also space for the romance...
Merit is a "fresh" character who has to fit in, in the supernatural world, the world of vampires and learn about their
hierarchy
and rules but she manage to keep her values too even though she has to come to terms with being a vampire she still don't compromise on her believes. She follows her intuition and does what se feel is right but she's not below admitting when she's wrong.
I'm very interested in seeing how her relationship with both Morgan and her master Ethan develops in the next books. I like both of the guys a lot but I will say that I'm a little bit more to team Ethan, he's gorgeous.
Merit also has a best friend Mallory and I like how they are very close and can talk about almost everything. They help each other through a lot of trouble and it's nice to see how they accept each other even though they both go through a big change.
Very good book and a great beginning to a series I'm sure will be memorable.
I give Some Girls Bite 4 out of 5.
Next in the series:
2# Friday Night Bites
4# Hard Bitten
(May 3rd 2011)
5# Drink Deep (November 2011)