Wow there a lot of new covers here are two more: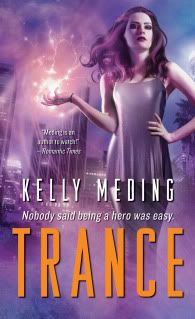 Anything with purple catch my interest. I like her hair to with the purple in it. I also like the energy/light that sparks from her hand, it give the book a very mysterious and powerful look.
Expected publication: October 25, 2011 US.
About Trance:
Fifteen years ago, Teresa "Trance" West was a skilled telepath and a proud member of the Ranger Corps. But ever since the Rangers were inexplicably rendered powerless at the climax of the devastating Meta War, she's bounced from one dead-end job to another. Now her powers have reappeared just as mysteriously as they vanished— only they're completely transformed and more potent than ever. And they're threatening to destroy her.

Trance heads to Los Angeles to track down the surviving Rangers and discover who restored her powers—and why—but a phantom enemy is determined to kill them before they can reassemble. As they dodge his deadly attacks and come to terms with their new role as heroes, Trance and the rest of the team set out to annihilate the sinister madman . . . only to discover their own powers are his greatest weapons.
Pretty, pretty, pretty this cover looks great, the dress is beautiful I like how it's flowing around them.
I cannot wait to read it. I love rachel Vincent's books.
Expected publication: September 20th 2011 US.
About If I Die:
No one wants to be this teacher's pet . . .

Everyone else is talking about Eastlake High's gorgeous new math teacher, Mr. Beck, but Kaylee Cavanaugh has bigger things on her mind. Kaylee's a banshee—her scream is a portent of death.

But the next scream might hit too close to home. Kaylee's borrowed lifeline has almost run out.

Yeah—it's a shock to her, too. So to distract herself from her own problems, Kaylee is determined to defend her school against the latest supernatural threat. That hot new teacher is really an incubus, who feeds from the desire of unsuspecting students. The only girls immune to his lure are Kaylee and Sabine, her boyfriend's delinquent ex-girlfriend. Now the unlikely allies have to get rid of Mr. Beck…before he discovers they aren't quite human either.

But Kaylee's running out of time, and those who love her will do anything to save her life.

Anything.
Let me know what you think about them?