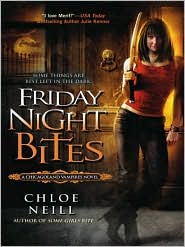 Book two in the Chicagoland Vampires series
About Friday Night Bites
Ten months after vampires revealed their existence to the mortals of Chicago, they're enjoying a celebrity status usually reserved for the Hollywood elite. But should people learn about the Raves-mass feeding parties where vampires round up humans like cattle-the citizens will start sharpening their stakes.

So now it's up to the new vampire Merit to reconnect with her upper class family and act as liaison between humans and bloodsuckers, and keep the more unsavory aspects of the vampire lifestyle out of the media. But someone doesn't want peace between them-someone with an ancient grudge...
Source: Goodreads
Review
Merit has accepted her role as Sentinel of Cadogan house and she now needs to know a lot more about the world she has been thrown into.
She also needs to learn and control all the handy skills that come with being a vampire. It's the only way for her to become the Sentinel everyone is expecting her to become.
She still has a big conflict in the romance department, the Morgan/Ethan drama. She dates Morgan and it's interesting to watch how they try to make their relationship work, but she still has a difficult time keeping Ethan out of her head.
My favourite parts in this story is the Merit/Ethan moments I really enjoy how they challenge and question each other and it makes a very entertaining read, I love those parts.
I also enjoy the Mallory/Catcher relationship, they are really good together and it's still very interesting to read about Mallory's development further into her new powers. I like that she still plays a big part in Merits life and that they still use each other when they need some girl talk and gossiping.
The ending in this book was great and I'm very excited to read Twice Bitten, how is Merit going to handle everything that's going on?
I give Friday Night Bites 4 out of 5.
Other books in this series:
5# Drink Deep (November 2011)