News 1:
Richelle Mead
has revealed the cover of book two in her Bloodlines series, The Golden Lily,
it comes out in May 2012:
News 2:
Cat Clarke
has has revealed the cover of Torn, it will be released in January 2012.
News 3:
Caitlin Kittredge
has revealed the cover of the Nightmare Garden, the second book in the Iron Codex series.
Expected publication: February 14, 2011.
News 4:
Rachel Hawkins
has revealed the cover of the Spell Bound, the third book in the Hex Hall series.
Expected publication: March 13th 2012.
News 5:
Jackie Morse Kessler
has revealed the back cover for Loss book three in The Horseman of the Apocalypse: The Rider's Quartet series:
Fight Back
Fifteen-year-old Billy Ballard is the kid that everyone picks on, from the school bullies to the teachers. Things change drastically when Billy learns that years ago, he'd been tricked by Pestilence, the White Rider of the Apocalypse. Now it's Billy's turn to wield Pestilence's Bow and spread sickness through the world. He uses his new power to lash out at his tormentors…and accidentally causes an outbreak of disease. Horrified by his actions, he wants nothing more than to be rid of the Bow. For that to happen, Billy must track down the previous White Rider, who is hiding in a place where even Death cannot go.
Billy's search takes him across the centuries: from ancient Phrygia, where a man called King Mita agrees to wear the White Rider's Crown, to a mighty forest, where Pestilence plans to cheat Death; from the docks of Alexandria, where plague is packed into cartons of grain, to the Children's Crusade in France, where the White Rider learns a truth that will break him. By the time Billy finds the man who had tricked him so long ago, the White Rider is completely insane—and is poised to unleash a plague that would make the Black Death look like a summer cold. And only Billy can stop him.
Does one bullied teenager have the strength to stand his ground—and the courage to save the world?
News 6:
Elle Jasper
has revealed the cover of Eventide, book three in the Dark Ink Chronicles.
Expected publication: March 6th 2012.
News 7:
Jennifer Estep
has revealed the cover for Kiss of Frost, book two in the Mythos Academy series.
Expected publication: November 29th 2011.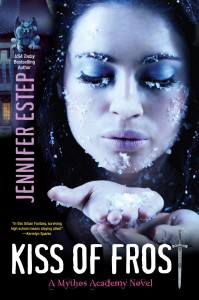 News 8:
Kim Harrington
has revealed the cover and synopsis for Perseption, book two in the Clarity series.
Expected publication: March 2012.
This hotly anticipated sequel to CLARITY delivers another dark, paranormal mystery.

When you can see things others can't, what do you do when someone's watching you?
Everybody knows about Clarity "Clare" Fern. She's the psychic girl in school, the one who can place her hands on something and see hidden visions from the past.
Only Clare would rather not be a celebrity. She prefers hanging back, observing. Her gift is not a game to her.
But then someone starts playing with her head . . . and heart. Messages and gifts from a secret admirer crop up everywhere Clare turns. Could they be from Gabriel, the gorgeous boy who gets Clare's pulse racing? Or from Justin, Clare's hopeful ex-boyfriend who'd do anything to win her back?
One thing is certain. Clare needs to solve this mystery, and soon. Because the messages are becoming sinister, and a girl in town has suddenly disappeared.
Wow I like a lot of these covers and I can't wait to read Spell Bound by Rachel Hawkins, I love that series.
So what do you think? Are there something special you are looking forward to?