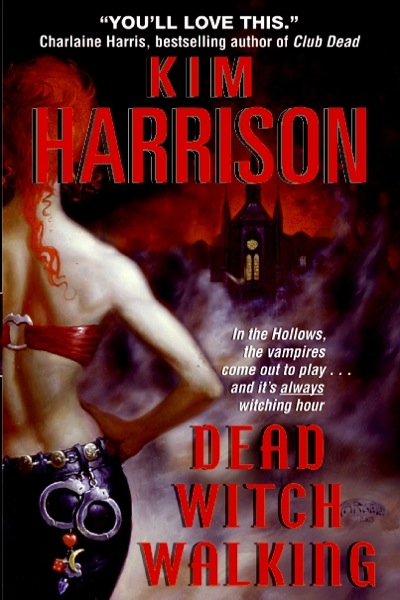 About Dead Witch Walking:
The underground population of witches, vampires, werewolves—creatures of dreams and nightmares—has lived beside humans for centuries, hiding their powers. But after a genetically engineered virus wipes out a large part of humanity, many of the "Inderlanders" reveal themselves, changing everything.
Rachel Morgan, witch and bounty hunter with the Inderland Runner Services, is one of the best at apprehending supernatural lawbreakers throughout Cincinnati, but when it comes to following the rules, she falls desperately short. Determined to buck the system, she quits and takes off on the run with an I.S. contract on her head and is reluctantly forced to team up with Ivy, Inderland's best runner . . . and a living vampire. But this witch is way out of her league, and to clear her name, Rachel must evade shape-changing assassins, outwit a powerful businessman/crime lord, and survive a vicious underground fight-to-the-death . . . not to mention her own roommate.
I like these types of stories with a lot of action and an "investigator" touch to it.
The world is a place where all the supernatural being has "come out" and humans knows they exist and I think Kim Harrison does a great job of portraying the different species and the suspicion and distrust they have for each other when they don't understand each other.
I love how Rachel Morgan just keeps on going even when things look bad she never gives up she has a tendency to be kind of whiny through much of the story but if you look at what she's going through it's kind of understandable.
My favorite character in the book is the vampire Ivy
there's just something about her that I love she is mysterious and I find myself wanting to know why she's so secretive. We never get into her head and that helps to keep her a very interesting character but it annoyed me that Rachel time after time kept blaming Ivy for events that obviously were not her fault.

I hope I will see a lot more to her in the next book.
I'm not a big fan of Jenks I think he's quite annoying and I have a hard time taking him seriously, much of the time it's him who comes with the humor in the story and lightens the mood but I think it's a little too much and I wish he would be a little more mature. It's sad because I really want to like him.
I like the world and the plot and I will be picking up the next book in the series.
I give Dead Witch Walking 3 out of 5.
Next in the series:
The Good, The Bad, and the Undead
Pale Demon (February 22, 2011)